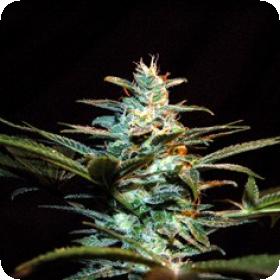 Ice Cool is a strain which is best known for its potency and its exotic and exciting flavour. This strain was born from an updated version of NYC Diesel, and ever popular strain, and a variant of Indian genetic material.
Ice Cool certainly has some strong Sativa characteristics such as taking a little longer to germinate than an Indica strain, but after the initial germination period Ice Cool grows extremely rapidly.
It is available to growers of all shapes and sizes as it can be grown indoors or outdoors. In appearance the plant is tall and elegant, up to a height of around 2 meters, with bright green leaves and crystal-covered flowers.
Ice Cool has everything from extreme potency to good looks and has quickly become and extremely popular strain from the breeders at Sweet Seeds.
Feminised seeds have become extremely popular amongst modern growers as they are a wonderful way to save time, money, and space. Not to mention that they are just easier to grow and, even for a novice grower, will maintain high levels of uniformity and quality.
Feminised seeds will only grow into female plants, for growers everywhere, who have no wish to breed their own crops, male plants are nothing but a nuisance.
Male plants are only used for pollen production, and would have to be removed from the crop at the flowering stage which is a huge waste of time and effort.
Regular seeds grow into a roughly 50/50 split of male and female plants which means that a grower, who does not the males, would be wasting a huge amount of money and would have to purchase twice as many regular seeds as the desired number of females.
It is also possible to breed using only female plants, however the procedure for doing so is extremely complex and should only be undertaken by expert breeders.
Females can actually be convinced to produce the same pollen as the males and that pollen can be used to fertilise another female.
This strain has a growing time of around 10 weeks and has an average harvest of 500g/m2. This strain has also been classified as one of the strongest and most potent strains on the market with an astonishing THC levels.
Please remember that the growing of cannabis plants and the cultivation of seeds is illegal in some countries - please check the laws of your country and don't be growing any plants if it is against your country's laws
Genetics:
NYC Diesel x variety of Indian genetics