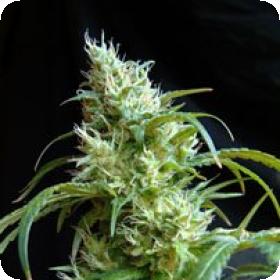 Flash Back #2 Feminised Seeds
The Flash Back #2 Feminised strain by Sweet Seeds is a hybrid of Flo and White Widow, two already immensely famous strains. This strain is unique in its effect which is intensely cerebral and, most importantly, its scent.
It has an extremely fruity aroma which is a combination of strawberry, humus, and forest berries. The strain is primarily Sativa in genetics and it is has never given any hint that it would be tricky to grow for any grower, novice or expert.
Under the perfect conditions, just like many Sativa strains, Flash Back #2 can grow to a rather impressive height. Despite the tall structure this plant as a thick and resilient stem which supports its large branch structure.
There are also a lot of Indica qualities to this strain such as its fast flowering and large, resinous, buds. This strain can produce a multitude of different but types, from fluffy buds to small leaflets to large leaflets, all of which are coated in a large amount of resin.
Flash Back #2 is very high in THC and 0.9% CBD which means that is does well as a medicinal strain. It provides and effective painkiller effect, as well as working as an anti-depressant, without causing the sufferer to feel tired, spaced out, or lacking in energy.
These seeds are feminised which simply put means that they will only grow into female plants. This method of breeding has become extremely popular for a number of reasons.
Firstly is effect on a strain, when a strain is feminised it can have a much higher level of uniformity and quality, removing the worry of nasty surprises. For growers with no interest in breeding they are the obvious choice as they eliminate the issue of male plants.
Growers who do not breed have no need for male plants, and so they simply take up space in the crop and waste seeds. If the whole crop is feminised not a seed is wasted which also saves a considerable amount of money.
This strain is also famous for its impressive yields, indoors the plant can produce up to 400 - 600 g/m2 and outdoors up to 700 g/plant, the harvesting time is the end of September or beginning of October.
Please remember that the growing of cannabis plants and the cultivation of seeds is illegal in some countries - please check the laws of your country and don't be growing any plants if it is against your country's laws