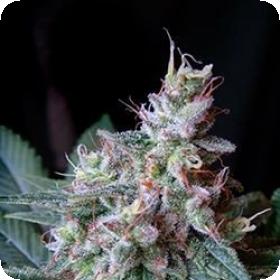 Cream Caramel FAST Version Feminised Seeds
Cream Caramel Fast version is the result of moving Cream Caramel back to its own auto-flowering version to create a photo-period plant that flowers a week or so faster than the original Cream Caramel strain.
It is an F1 strain with the genetics of Blue Black, Maple Leaf Indica and White Rhino.
This is a 90% indicator plant, a fact that is reflected in its structure, and a very vigorous one, too.
When grown indoors, it has a very short flowering time of 7 weeks, yielding 450-600 g / m2.
For outdoor growers, this short flowering period means that they should be able to harvest in the northern hemisphere in mid-September, before late summer or early autumn weather is bad, with each plant producing 500-800 gr.
Buds are dense and heavily resin-charged, The aroma is very sweet and earthy, which is the result of the Blue Black genetics, Cream Caramel has a high THC and high enough CBD to add a very relaxing, anti-depressant effect.
These properties make it a good choice for people looking for a medical marijuana strain, Buy the Cream Caramel Fast version  today and grow the cream of the crop.
Genetics:
Cream Caramel (Blue Black x Maple Leaf Indica x White Rhino) x Cream Caramel Auto