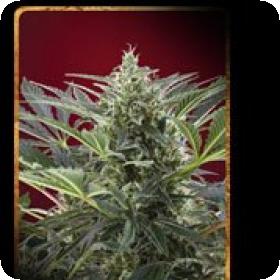 This hybrid is some of Sweet Seed's finest work and is a hybrid of their very popular Cream Caramel and their "elite clone" of AK47. The resulting plant is really something very special, it surpasses many similar strains in production, power, and aroma.
Cream 47 is a thick plant which produces strong branches and stems. These are thick because they have to hold the extremely thick and large buds that the plant creates which are completely coated with copious amounts of resin.
The colour of the plant is also something that puts it ahead of the game as, during flowering, it can take on a variety of purples, blues, and reds, making it quite something to behold.
Cream 47 has a very sweet flavour which is combined with the very earthy flavour of the original Cream Caramel and compliments it beautifully.
The effect is a rather strong and hard hitting one, yet there is a decent balance between energy and relaxation which is often found in Indica/Sativa hybrids.
Feminising seeds has become extremely popular in the cannabis community for its user-friendly nature. For a long time growers, who have no need for the male plants, have been having to remove them at the start of the flowering period.
This is a waste of time and energy which could be spent on the productive female plants. The other main issue with regular seeds is the fact that growers need to purchase twice the number of seeds as the desired number of female plants, with feminised seeds this is no longer an issue.
It is not just the ease of use that makes feminised seeds so very popular but also the fact that they have been proven to be higher in uniformity and in quality, making them a far more reliable seed type.
For breeders feminised seeds are also a viable option as, if properly treated, the females can produce the same exact pollen as the male plants.
This pollen can be used to fertilise another female in order to create seeds, this is an extremely difficult method of breeding and should only be attempted by experienced breeders.
Cream 47 can be grown indoors or outdoors making it an easy strain for all types of growers or breeders to cultivate. The indoor yield is 500 - 650 g/m2 and the outdoor yield is 500 - 750 g/plant.
The flowering time is a mere 9 weeks and it should be harvested at the beginning of October.
Please remember that the growing of cannabis plants and the cultivation of seeds is illegal in some countries - please check the laws of your country and don't be growing any plants if it is against your country's laws