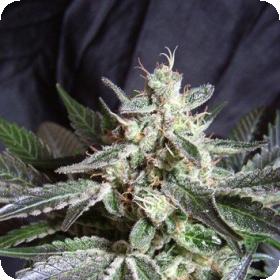 Black Jack FAST Version Feminised Seeds
Black Jack Fast is a nicely-balanced 50/50 indica-sativa derived from crossing S.A.D. Auto with Jack Herer. The resulting plant is a feminised version of Black Jack that flowers faster than the automatic by about a week.
These feminised seeds contain the finest traits of each parent and produce plants with a strong but pleasant aroma and a long-lasting effect.
The balance of indica and sativa makes the experience of Black Jack Fast one with lots of appeal for both recreational and therapeutic applications.
The plants develop strong lateral branches and produce numerous flower sites with large numbers of resin-rich buds. The plants take on a nearly spherical shape and are capable of growing quite large with just a little of pruning.
When these plants are properly maintained they don't take up n excess of space, which is good news for indoor growers with for whom space is at a premium.
These seeds respond well to all common indoor grow methods and show comparable yields regardless of the growing environment. The plants also grow well outdoors with a late October harvest throughout most of the Northern Hemisphere.
If your area is prone to early frost, plan your harvest a few weeks sooner. Allow the plants to stretch when growing them outdoors. They can reach a towering 9 feet tall and yield an abundant crop, often topping 600 g per square metre.
Irrespective of the grow method, you can expect yields to be sizeable. Flowering time averages about 9 weeks and the finished product offers a smooth smoke with high to very high THC content. CBD's content is moderate - around 0.5 to 0.7 percent.
Black Jack Fast offers a clear-headed, invigorating effect guaranteed to be conducive to good times. No paranoia, anxiety or hangover here - just a great experience with a long-lasting hybrid high.
Please remember that the growing of cannabis plants and the cultivation of seeds is illegal in some countries - please check the laws of your country and don't be growing any plants if it is against your country's laws