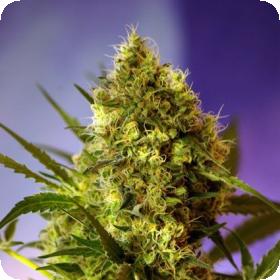 Big Devil FAST Version Feminised Seeds
Big Devil Fast Version is a non-auto-flowering version of their popular Big Devil Auto strain. They took the best of the best of the original plants and crossed it with some of their most elite genetic lines in an effort to closely mimic the characteristics of Big Devil. The result is a fast-flowering plant that finishes 1-2 weeks earlier than its auto-flowering ancestors.
The resulting plants are extremely vigorous and can grow both vertically and horizontally huge. The buds form a thick coat of very potent resin and there are plenty of them. With mostly sativa genes, the plants form a strong central stem with a large number of strong but flexible lateral branches. In some cases, tying the branches may be necessary, especially if a particular one grows a large number of buds.
Fans of the original Big Devil will appreciate the care taken to maintain the flavour and aroma of the original. Both are extremely sweet and have earthy undertones. When lit, it takes on a musky smell of incense that mingles well with the Skunk-like sweet and spicy flavour.
Indoor growers will need to provide ample space, both vertical and horizontal, for these plants. Greenhouses are the best choice for indoor growing, but anyplace with a high ceiling will do. They are partial to soil growing methods but also work well in hydro setups since they like to be amply fed and hydrated.
Outdoors, these plants will stretch even more and produce even bigger yields (up to 650 g per square metre). Plan a mid- to late-September harvest as these plants do not take well to frost. Flowering time indoors or out is about 9 weeks. The effect of the finished product is very strong with a very high THC content.
Please remember that the growing of cannabis plants and the cultivation of seeds is illegal in some countries - please check the laws of your country and don't be growing any plants if it is against your country's laws
Genetics:
Big Devil Auto x Secret Strain