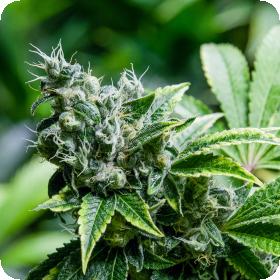 Eden CBD has a very high ratio of CBD:THC of 70:1. It was bred using Swiss sativa genetics crossed with Dutch indica strain at a ratio of 70 per cent sativa to 30 per cent indica. It is capable of producing very generous yields and has therapeutic properties.
Eden CBD has a flowering time of between 60-65 days indoors with a potential yield of 650 gr/m2. Outside these plants can grow to an impressive 300 cm.
tall with northern hemisphere harvests being ready either in late September or early October at the latest. The yields are likely to be very high in good conditions.
This is not a particularly fast-growing plant and it is recommended not to be planted later than early June outdoors in the north of the equator.
Eden CBD has a few minty notes to its taste. CBD was measured at 14 percent, while THC was 0.2 percent. This weed has therapeutic uses for pain relief and ensures a good night's rest, especially when taken as an infusion that takes longer to take effect but has a longer effect than when smoked or vaporized.
Genetics:
Swiss Sativa x Dutch Indica