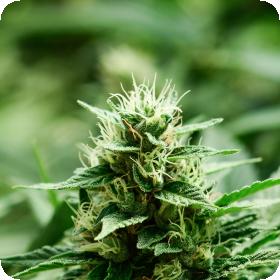 Mexican Candy Feminised Seeds
Mexican Candy is a 50/50 indica/sativa hybrid that was bred using one of Mexico's favourite breeding cultivars of Super Strains. A tall plant with good yields and very high THC levels.
Good for both indoor and outdoor cultivation, although warmer climates will be more productive unless a greenhouse is used. The indoor plants will grow quickly and can reach up to 180 cm in height.
And yield 500 gr/m2 in about 65 days of flowering. It can grow to 300 cm outside in good conditions. High or higher, even if not planted in the northern hemisphere until June, with harvest due in October.
Its scent is sharp and fruity during the flowering period, with typical Mexican undertones. Dry, the buds lose some of their sharpness and the scent deepens.
The air is heavy with a herbal smell when smoked. The production of THC is very good at 22 percent, while the CBD is 2 percent. High is very sativa-like, clear, expansive and powerful.