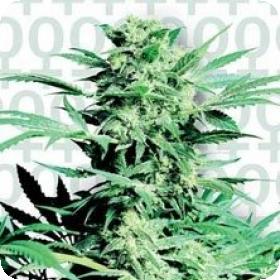 Shiva Skunk Feminised Seeds
Where Skunk strains are concerned Shiva Skunk is thought to be the most powerful, this in turn makes it one of the strongest Indica strains that has ever been made available to the public.
This strain was released in 1987 and was named after the Hindu god Shiva, its initial name was NL#5 x Sk#1. The two parent-plants, named in the working title, gained a great amount of interest from those familiar with them.
They are certainly two of the most famous parent-plants and have a reputation for spawning some rather impressive strains. The fact that this entirely new strain was born from these famous parents really made an impact on the cannabis community.
This strain was a super-hybrid which pulled together two of the most potent and powerful strains that have ever existed. The Northern Lights influence produces thick buds which are coated with a layer of resin, the strain is also a vigorous grower and gives an extremely impressive yield.
The strain was even stepped up a notch by the breeders at Sensi who have released it in the form of feminised seeds.
Feminised seeds have become more and more popular in recent years as they save time, space, and perhaps most importantly, money. These seeds will only grow into female plants which means that growers no longer have to deal with unnecessary male plants.
For most growers male plants perform absolutely no service since their only function is the production of pollen. Thus, growers do not have to remove the males at the start of the flowering process, and they need no longer buy twice as many seeds as the desired number of female plants.
Even for breeders feminised seeds have proven themselves to be an excellent option. Female plants, if properly treated, can produce the same pollen that the males produced and can be used to fertilise another female.
This is an extremely difficult procedure which should not be taken lightly, however the result can be far more impressive in uniformity and in quality than the offspring of a male and a female.
Shiva Skunk thrives best in a temperate or continental environment as it is 85% Indica. It is a compact strain with a heavy yield and a short flowering period 45 - 55 days.
Please remember that the growing of cannabis plants and the cultivation of seeds is illegal in some countries - please check the laws of your country and don't be growing any plants if it is against your country's laws