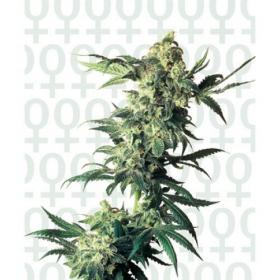 Northern Lights Feminised Seeds
Northern Lights has always been a favourite in the cannabis community and is one of the three primary strains used for breeding. Over the last 30 years this strain has changed the face of cannabis breeding.
Northern Lights has been wowing the cannabis community since the 80s and has set a very definite standard by which many strains, especially Indica strains, are still judged.
Northern Lights was actually asked to step down from the harvest festivals, where it won many awards, in order to give the other strains a chance.
Years of careful selection and back-breeding have lead to this strain being able to grow happily indoors which makes it accessible to all types of breeders and growers.
This strain is most famous of its compact, thick, and extremely vigorous nature as well as its large frosted buds with a strangely honey like aroma. The strain has also been feminised resulting in an even higher level of uniformity and vigour.
When a strain is feminised it grows only into female plants which became very popular with growers everywhere. The reason that this genetic alteration took off quite so quickly was that for a long time growers have had to suffer male plants in their crops.
Male plant have no use other than the production of pollen which, for those who have no intention of breeding their own crops, is completely useless. This way the grower does not have to buy twice the number of seeds as desired females.
They also do not need to waste crop space on useless male plants or simply go around ripping them up at the start of flowering to make room for the females.
This way feminised seeds are simple, and a saviour of time, space and money. Even for those who do wish to breed their own crops feminised seeds are an option.
For experienced breeders, as it is an extremely difficult process, females can produce the same pollen as the males. This way they can fertilise other females and the resulting seeds are often higher in uniformity and in quality.
This plant thrives best in a sunny or Mediterranean environment when grown outdoors but can also be grown indoors. It is 90% Indica and has a flowering period of 45 - 55 days. It is a compact plant with a heavy yield making it perfect for those who are a little short on space.
Please remember that the growing of cannabis plants and the cultivation of seeds is illegal in some countries - please check the laws of your country and don't be growing any plants if it is against your country's laws