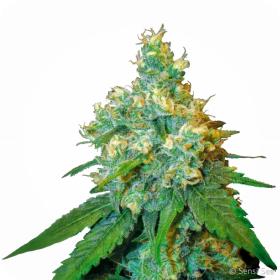 Jack Herer Feminised Seeds
Feminised version of Sensi Seeds' long-time favourite sativa strain. This multiple Cannabis Cup Winner is undoubtedly one of the most special types of marijuana in the cannabis world today.
Named in honour of world-famous global hemp activist and author of the most informative book on hemp and cannabis, 'The Emperor Wears No Clothes'.
Many years of extensive breeding and special selection gave way to this multiple Haze hybrid that will deliver good yields of heavy clustered, medium density buds glistening with juicy, resin coated Haze bracts that have a fresh and peppery, pungent Haze smell mixed with a hint of fruity skunk.
Jack Herer has an award-winning flavor of strong peppered Haze spiced with a delicious dash of fruity acridness and the effects have a quick onset with a strong uplifting cerebral high and a giggly edge.
Awards:
2006: 2nd - High Life Cannabis Cup (Seed Bank Hydro Haze)
2006: 2nd - High Life Cannabis Cup (Grow Shop Hydro Haze)
2005: 1st - High Life Cannabis Cup (Coffeeshop Hydro)
2004: 1st - High Life Cannabis Cup (Coffeeshop Hydro)
2004: 1st - High Life Cannabis Cup (Seeds Haze Hydro)
2003: 1st - High Life Cannabis Cup (Seeds Hydro)
2003: 1st - High Life Cannabis Cup (Grow Shop Bio)
2003: 3rd - High Life Cannabis Cup (Coffeeshop Hydro)
2002: 3rd - High Life Cannabis Cup (Coffeeshop Hydro)
1999: 1st - High Times Cannabis Cup (Sativa Cup)
1994: 1st - High Times Cannabis Cup (Overall)