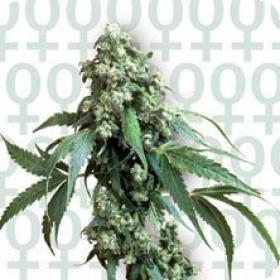 Jack Flash #5 Feminised Seeds
Once again a strain has been born from Sensi Seeds need to improve even their best work, presenting Jack Flash, an all female direct descendant of Jack Herer's.
Sensi took the already immaculate gene-pool of Jack Herer and refined it, they strengthened the most desirable traits of the strain though back-crossing.
This breeding process stretched over multiple generations with each stage being subject to rigorous testing.
Eventually a rather unique father was added to the mix in the very last stage and this resulted in Jack Flash #5, a resilient and robust feminised version of the already very popular Jack Flash.
Nothing of the original Jack Herer was sacrificed, not even its wonderful Haze effects, but the vigour and robust structure of the Afghani-Skunk was introduced.
The Indica form is compact and rapid making it perfect for SOG, it grows calyxes of an impressive size which stack up and become coated in resin.
The Sativa dominant nature of the strain makes it a really very impressive example of what cannabis should be, its yield, potency, and flavour are unmatched.
As previously mentioned the seeds have been feminised. For many modern growers feminised seeds are the only option considering the fact that there is now little need for male plants.
Male plants can be a large problem for many growers as they serve basically no purpose and simply result in time and space being wasted.
They can also be an immense waste of money as a grower will often have to purchase twice as many seeds as the desired number of females, thus feminising seeds avoids all of these issues.
Even for breeders, who would usually not need as many males as would be grown in a normal crop, feminised seeds are an excellent idea. It is possible, although difficult, to convince female plants to produce the same pollen as the males.
This means that breeding can be achieved without having to use any male plants and the results are often of a higher quality and level of uniformity.
This plant thrives best in a sunny environment, flowers in a mere 55 - 75 days, produces a heavy yield, and is 65% Sativa and 35% Indica.
Please remember that the growing of cannabis plants and the cultivation of seeds is illegal in some countries - please check the laws of your country and don't be growing any plants if it is against your country's laws