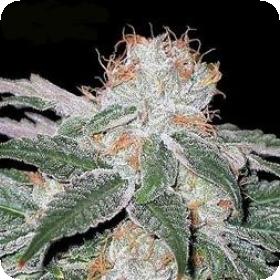 White Widow Feminised Seeds
White Widow is one of those strains that has developed such a reputation, it is nearly impossible to find anyone in the cannabis community who hasn't tried it or heard of it. It is a favourite of growers and enthusiasts the world over.
It is often imitated but it has never been, nor will it ever be, duplicated. Its genetics are very distinct and that makes it easy to tell whether or not it's real (that and the fact that White Widow is incredibly stable and consistent).
The buds have a shimmering coat of sticky resin. The aroma is very powerful and grows even more intense as the plants mature. That same smell is amplified when the cured product is lit. It smells and tastes very clean and fresh.
The flavour fills the nose with the smell of freshly-cut flowers or a garden full of fruit that is ripe and ready for harvest. The smoke is very smooth and mellow - no coughing allowed!
White Widow produces an effect that is regarded as being the definition of what great marijuana is. It has a powerful and potent but it is very relaxing. It is also energising and invigorating.
There are many dimensions to this strain and it represents all of them well. Some users say that is provides them a swift burst of energy and creativity. Others say it locks them to the couch for an evening of hardcore lounging.
However it operates, it's well worth a try. It will not disappoint.
The original White Widow is very simple to grow and this feminised version is even more so. They are predictable and consistent and grow well indoors or out. They are a great choice for first-time or inexperienced growers and will still produce well even if the grower's efforts fall short of perfect.
Please remember that the growing of cannabis plants and the cultivation of seeds is illegal in some countries - please check the laws of your country and don't be growing any plants if it is against your country's laws.