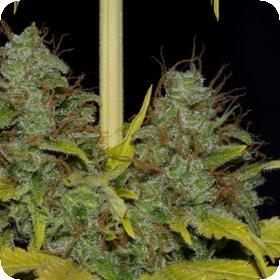 White Widow FAST Feminised Seeds
This strain is ideal for everyone who loves the fantastic White Widow strain, but doesn't have the patience to wait for it to flower. White Widow FAST by Seedsman has all the greatness of the famous original strain with a much shorter flowering time.
White Widow is well known for its super intense effect and its amazing coating of sparkling resin. The buds are so encrusted in resin they look as though they have been rolled in crystals.
This strain has an extremely powerful mental effect that oozes slowly into a delightful full body relaxation.
This version of White Widow is also feminised, ideal for growers everywhere. Most growers don't need the male plants, which means they have to be thrown out before they can harm the females.
The male plants take up around half of a regular crop and so will waste a huge amount of time, money and energy on the part of the grower. Feminised seeds also tend to be higher in quality and uniformity, which is why some breeders also prefer to use them.
Breeding with feminised plants is not easy and should only be attempted by experienced breeders. 
This strain can be grown indoors, outdoors or in a greenhouse and has a flowering time of just 6 – 7weeks. 
Remember that the cultivation of cannabis seeds is illegal in some countries, please check the laws of your country before attempting to cultivate cannabis seeds.