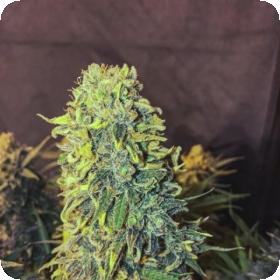 Original Skunk #1 FAST Feminised Seeds
Original Skunk #1 Fast is an awesome strain by Seedsman that does what it says on the tin. It gives you that amazing Original Skunk…just really fast. This strain has kept all of the great qualities of Skunk; the potency, the flavour and the amazing bud to leaf ratio.
This strain has a powerful effect that is both intense and comfortable as well as all that intense Skunk smell. This strain is ideal for all the impatient Skunk lovers out there.
This strain is also feminised and will only grow into female plants. Feminised seeds were created to make life easier for growers everywhere. Male plants will usually take up around half of a regular crop and can harm the female plants during the flowering process.
This means they have to be removed from the crop and will waste a whole bunch of time and money. Feminised seeds also tend to be higher in quality and uniformity than regular crops.
Some breeders also prefer to use feminised seeds, despite the increased difficulty and effort involved in feminised breeding. 
This strain has a flowering time of just 6 – 7 weeks and can be grown indoors, outdoors or in a greenhouse. 
Remember that the cultivation of cannabis seeds is illegal in some countries, please check the laws of your country before attempting to cultivate cannabis seeds.