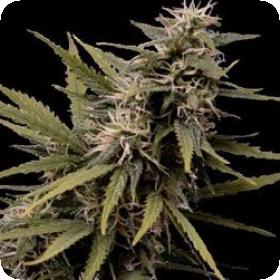 Nemesis is an explosive combination of two incredible strains from two regions known for producing some of the best cannabis on earth. This is a 50/50 indica/sativa hybrid. It gets its sativa genetics from Northern Indian and its indica from Nepali. It is a hardy strain that stands up well to the elements and adapts well to any indoor environment as well.
The plants grow to a medium height, making them good for indoor and greenhouse setups. They will respond to any preferred growing method from soil to potting to hydro. The size suits them for specialised methods like Sea of Green and Screen of Green as well.
Under the right conditions, these plants can produce very potent buds. The effect is immediate and is the perfect hybrid mix of a head filling, body stone and an uplifting, motivating sativa high. Most users find Nemesis to be very relaxing while leaving them alert and aware. The name speaks of how well it showcases both sides of its nature.
The flower time for Nemesis is also very impressive at only 7 to 9 weeks on average. Let it grow longer and it loses a bit of flavour but will be more potent. For the best of both worlds, harvest after about 8 weeks. These plants enjoy warmer weather, so plan final harvest for the end of September.
Growers new to cannabis cultivation will find Nemesis to be an easy strain for learning and one that provides a great opportunity to experiment and grow their skills. Seasoned pros will love how fast it grows and how well it produces under the right conditions. These feminised seeds do the vast majority of the work on their own and almost never present with any male plants. They are very dependable and stable.
Please remember that the growing of cannabis plants and the cultivation of seeds is illegal in some countries - please check the laws of your country and don't be growing any plants if it is against your country's laws.