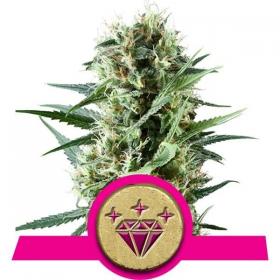 Special Kush #1 Feminised Seeds
Royal Queen Seeds have decided to bring the Kush strain into modern times with their Special Kush #1 Feminised seeds.
As Special Kush likes to grow wild in the mountains of Afghanistan meaning that it will take up as much space as it can, and so, if grown indoors, care needs to be taken that it doesn't overgrow.
If left and given the right sunny conditions it can grow to an impressive over 3 metres tall and produce an outdoor yield of over 150 per plant. Indoors it will produce a yield of roughly 425-475 gr m2 under a 600 W light with a flowering time of 7-8 weeks.
The strains genetic makeup is a Kush and Afghan cross, resulting in an even Sativa and Indica split meaning that the best of both plants are apparent, and this it has a high THC content.
The fact that these seeds are feminised means that they have an advantage over regular seeds.
Regular seeds with on average produce an even ratio of males and females, although this will sometimes waver in favour of the females, however the males are not really of any use as it is the females which are needed for cultivation.
Because of this a grower must purchase twice the number of seeds as females needed and consequently spend twice the amount of money. As well as this extra time and space is taken up by the unnecessary males, space which is of particular importance with Kush #1.
Feminised seeds means that there is an almost 100% chance that all the seeds will be female which makes the growing experience that much easier for novice and experienced growers alike.
The males would come into use if a grower wished to breed their own crop as it is the males which produce the pollen.
Even if this were the case however, for the more experienced growers it is possible to coerce the females into producing this pollen, which will result in a crop of greater uniformity and genetic purity.