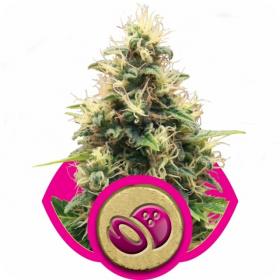 Somango XL Feminised Seeds
This strain is a combination of Somango and Critical 47, two extremely popular strains. Somango XL was created due to a gap in the market which could only be filled by a strain which gives the much desired euphoric effect without lethargy.
The two strains which it is comprised of are both robust as well as being extremely productive. The testing for this strain was extensive and has quickly become one of the most popular strains around.
It has high THC levels and is wonderful for removing distractions and really directing the mind.
The strain is excellent for creativity as well as socialising and discovering new hobbies. Medicinally its ability to keep the mind and body active means that it works perfectly as a daytime painkiller.
It is a 25/75 split between Sativa and Indica and the Indica dominance of the strain means that the effects of the strain are extremely fast acting. Somango XL has received praise for being ideal for all types of growers, from novices to experienced growers.
Somango XL is also feminised which means it will only grow into female plants. These seeds can still be used by experienced breeders despite the lack of male plants. If a female is treated in the correct way she can release a feminised pollen.
This pollen works in much the same way as the male pollen and is used to fertilise another female plant. The resulting seeds are also feminised and therefore are higher in quality and uniformity than regular seeds.
Feminised seeds are primarily used by growers since they usually have no use for the male plants. In a regular crop around half of the plants would be male and usually the grower would have to remove the males at the start of the flowering process.
This is not only a waste of time and energy but a huge waste of money. Using feminised seeds means that the grower will receive twice the number of productive female plants for the same price.
This strain can be grown indoors and outdoors. Its indoor growing time is 8 - 9 weeks, its yield is 525 - 575 g/m2 and it will grow to a height of 60 - 100 cm. Outdoors it should be harvested in late September, has a yield of 550 - 600 g/plant and grows to a height of 120 - 200 cm.