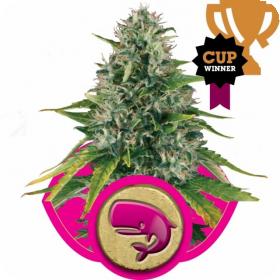 Royal Moby Feminised Seeds
Royal Queen Seeds Royal Moby Feminised Seeds so gained its name due to its humongous size and is a Dutch twist on a Spanish classic, here seen in a feminised form.
Its genetic makeup is that of a Haze and White Widow resulting in a Sativa dominant (65%) strain and a high THC content. Although it is Sativa dominant its Indica traits also come through via its short flowering period of 9-10 weeks.
Perhaps more light can be shed on its name when it is revealed that this remarkable plant can reach up to 2 metres indoors and 3 metres outdoors in the sunlight, favouring a Mediterranean climate, and will result in long branches, packed with buds.
The indoor yield can be expected to be 75 g per plant under a 600 W light or in the right outdoor conditions a yield of 1000 gr m2 can be expected.
Its gargantuan size means that Moby requires lots of nourishment and attention, but the rewards are quite enough compensation for this.
Royal Queen Seeds have attempted to aid the grower in this task by making Moby seeds feminised, ensuring they are easier to grow than if regular seeds are used.
Regular seeds will roughly produce an even split of males and females which has a number of disadvantages.
Firstly the males aren't really that useful as it is the females which are needed for cultivation so a grower would need to buy twice the number of seeds as required females which of course requires spending twice the amount of money.
Secondly when males are purchased it means they take up valuable time and space which could be better spent on the females. Feminised seeds means that there is almost a 100% chance that all the seeds are female.
The males really only come in to use if a grower wishes to breed their own crop, and even then it is possible, although extremely difficult, to induce the females into producing the pollen needed for breeding.
If this is achieved it means that the future crop with have greater genetic purity than if males and females had been used.