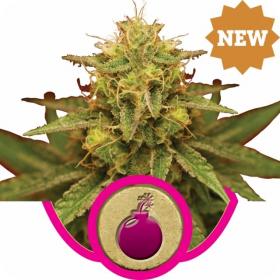 Royal Domina Feminised Seeds
Royal Domina by Royal Queen Seeds is a combination of two fantastic strains. It was created by mixing Black Domina and Kalijah.
The result was a flavourful strain with an extremely relaxing effect. This strain is very easy to grow, which makes it ideal for everyone from novice to expert.
The flavour is a combination of earth and citrus with just a hint of sweetness that breaks through. Its THC levels will usually hit around 20% with a low CBD level, which makes it an extremely relaxing and heavy hitting strain.
Royal Domina is the perfect chill out strain, ideal for laying back and watching a film or dealing with the stress of the day.
This strain is feminised, which means it will only grow into female plants. It also means that it will need alight cycle in order to flower. Feminised seeds are great for growers, who would usually waste a lot of time and money on male plants.
The males have to be removed from the crop so that they cannot hurt the females during the flowering period, this then wastes half of the money spent on the seeds. Feminised seeds also tend to be higher in quality and uniformity than regular seeds.
Some breeders also prefer to use them, despite the increased difficulty involved in feminised breeding.
This strain can be grown indoors, outdoors or in a greenhouse and has a flowering time of 49 – 56 days.