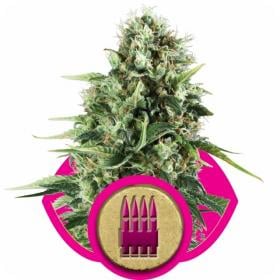 Royal AK comes from Colombian, Thai, Mexican and Afghan genetics. It is a Sativa dominant hybrid which also has a significant Indica effect. The effect of the strain is a sensible body and mental high, this is because it is so well balanced. The strain was found to have the highest level of THC out of any of the admissions to the Cannabis Cup in 1999. It also won the High Times Indica Strain of the Year award in 2003. Most recently this illustrious strain was the 3rd prize in the Hybrid category at the Amsterdam High Times Cannabis Cup in 2011.
It has high THC levels and its is split 60/40 between Sativa and Indica. It has an extremely unique flavour which is sweet and yet has a trace of pine. Royal AK is one of the more prominent modern strains currently in existence. It is known for its extremely strong scent and for its vigorous growth. The outcome of this strain is extremely uniform and dependable making it ideal for personal use or for bulk growth.
Royal AK is also a feminised strain which means its seeds will only grow into female plants. These all female plants are generally of a much higher quality and more impressive level of uniformity than regular plants. For those who are more interested in growing than breeding feminised seeds have a number of advantages. For instance they eliminate the issue of the male plants. In a regular crop around half of the plants will be male which means, for a grower, half of the crop is wasted.
The males would usually need to be removed at the start of the flowering period so that they do not harm the females. This not only means that half of the plants are wasted but half of the money spent on them. Feminised seeds can also be used by breeders who are a little more experienced in their field. This breeding process requires convincing the female plant to produce a pollen similar to that of the male plant. This pollen is then used to fertilise another female and the resulting seeds will also be feminised.
Royal AK can be grown indoors and outdoors making it ideal for all types of growers and breeders. The indoor yield is around 525 - 575 g/m2 and the outdoor yield is 600 - 650 g/plant. It has a flowering time of 8 - 9 weeks and if it is grown outdoors it should be harvested in early October.