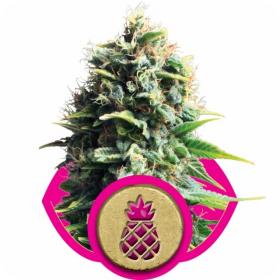 Pineapple Kush Feminised Seeds
Pineapple Kush is widely renowned for its potency which is acquired from its OG Kush parent, one of the most popular strains currently available.
It is an Indica dominant cross with a high CBD/THC ratio making it an excellent medicinal strain. It is perfect for those who are searching for relief from anxiety, migraines, PMS and general stress.
It has also been widely recognised for having an excellent effect on those suffering from Attention Deficit Hyperactivity Disorder, or ADHD, and those who are struggling with a loss of appetite.
Its effect is primarily mental but there are also some physical effects, its effect on the body is extremely relaxing and also excellent for medicinal purposes. The flavour and scent is that of tropical fruit, hence the Pineapple aspect, which only enhances its appeal.
These seeds are perfect for a wide range of growers and breeders.
Pineapple Kush is also feminised which means that all of the seeds will grow into female plants. This is useful for a number of reasons and these seeds are predominantly used by growers. Growers, who have no interest in breeding their own plants, have no need for the males.
Males will usually take up around half of a regular crop. These plants are often removed before the flowering period to ensure that they do not harm the female plants.
This practice unfortunately means that around half of the crop, and so half of the money spent on the seeds, is wasted. It is far more time and cost effective to simply purchase feminised seeds.
These seeds are also of a generally higher level of quality and uniformity than regular seeds. These seeds can also be used by breeders, however they must be quite experienced.
Female plants are capable, if properly treated, of releasing a pollen similar to the pollen released by the males. This pollen is then used to fertilise another female, the resulting seeds will be feminised.
This strain can grow to anywhere between 70 and 120 cm if it is grown inside, if it is grown outside it can exceed 120 cm. The yield is roughly half a kilogram per square meter. The flowering time is usually around 7 - 8 weeks.