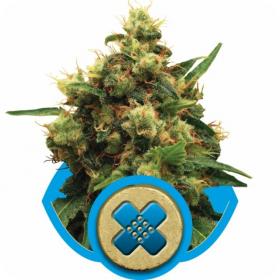 Painkiller XL Feminised Seeds
This strain, Painkiller XL, is a combination of Juanita La Lagrimosa and Royal Highness. It comes from a rich background of popular strains and is itself really rather impressive.
Each new strain from these ancestors has its own scent, flavour, colour and each one has a high medicinal benefit. Painkiller XL is famous for having a perfect balance of THC and CBD, 9%, and is 75% Sativa and 25% Indica.
This strain, despite being predominantly Sativa, has a much more physical effect, which is where it gets its name from. The strain is ideal for relieving pain, migraines, stress as well as helping to lessen the symptoms of AIDS, epilepsy, diabetes and Parkinsons.
The strain is wonderful for day time usage as it allows for physical relaxation but does not cause the patient to experience the same confusing mental high.
However, the mental effect of the strain is still present but far more pleasant which is why it is also perfect for aiding those who suffer from stress and depression.
Painkiller XL is a feminised strain which means that it will only grow into female plants. Since their creation feminised seeds have only increased in popularity. Generally speaking these seeds boast a higher level of quality and uniformity than regular seeds.
Feminised seeds are often used by growers, those who have no interest in breeding, as they remove the issue of the male plants. For non-breeders male plants have no practical use and simply take up space and time.
Often the male plants will be removed at the start of the flowering process as they can damage the female plants.
This means that around half of a regular crop would be wasted, as would half of the money spent on the seeds. Feminised seeds can also be used by breeders, however the method by which these seeds are created is a little more complex.
The female plant has to be convinced to release a pollen. This pollen works in much the same way as the male pollen and is used to fertilise another female. The resulting seeds will also be feminised.
This strain has a flowering time of 8 weeks and can produce 500 - 550 grams per plant when grown indoors. They can also reach to a height of around 80 cm, outdoors they will usually grow to around 135 cm and should be harvested at the end of September.
Genetics:
Royal Highness x Juanita la Lagrimosa