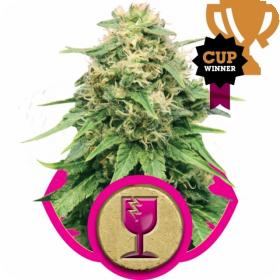 Royal Queen Seeds Critical Feminised seeds is an award-winning variety which combines all the attributes needed for great commercial growing such as a high yield, easy growth, and a swift flowering period.
It is an Afghani and Skunk hybrid resulting in an Indica dominant seed, which accounts for its fast 7-week flowering times, and a high THC content.
Its small height means it can be grown indoors although it would thrive more in a sunny outdoor environment such as that of Spain and Italy.
When grown indoors it will reach a height of under 1 m and produce a yield of 550-600 gr m2, whereas outdoors this yield will increase to 600-650 g per plant dried. This is a perfect plant for the grower who does not possess a lot of space but still wants a high yield.
Royal Queen Seeds Critical seeds also has the added benefit of being feminised which means that there is a 99.99% chance that all the seeds are female. This is useful because it is only the females which are needed for cultivation.
With regular seeds packs there is a 50/50 split between males and females which means that a grower needs to spend twice the amount of money and use twice the amount of spacer than is necessary.
The males would come in handy if a grower wished to breed their own crop, as it is the males which produce the pollen.
However, given the right conditions, it is possible to manipulate the females into producing this pollen, which will result in a future crop of greater genetic uniformity than if both males and females had been used.
This task is extremely difficult however, and only the most experienced grower are likely to be successful.
Please remember that the growing of cannabis plants and the cultivation of seeds is illegal in some countries - please check the laws of your country and don't be growing any plants if it is against your country's laws.