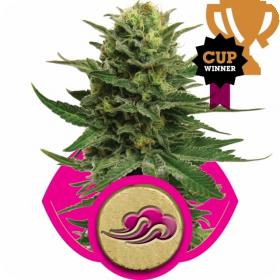 Blue Mystic Feminised Seeds
A product of a melting pot of cannabis genetics that has grown out of breeding projects native to California and Oregon, a new, exciting marijuana strain has emerged. Developed by Royal Seeds, Blue Mystic is a high-quality feminized variety with indica-dominant traits.
The plants grow short but also like to do a little of stretching. They have been compared to Bonsai trees or broccoli in their growing patterns. They can grow up to 3 feet tall but are usually shorter with proper pruning.
Blue Mystic's squat stature makes it good for grow spaces that are a little vertically challenged, but they will need some room to spread out - that is where most bud production is going to happen.
Let them grow to full maturity, and they will reward with a wonderful end product with maximum yield. Normal harvest is about 55-65 g per plant when grown indoors, which amounts to 300-500 g per square metre.
Using a 600w light will ensure yields like that. Outdoors, Blue Mystic demands warmth. Mediterranean or southern California climates will work best. They do not do well outdoors further north.
The plants are technically ready for harvesting after just 8-10 weeks. Blue Mystic has a sweet, refreshing, fruity flavour that does diminish if left too long so split the difference and harvest at 9 weeks.
It will lose a bit of its flavour but the reward is in a heavier full-body effect. Drying is recommended before clipping as a means of maximizing the overall flavour of the smoke.
If harvested at the right time, Blue Mystic's flavour can be extremely refreshing and sweet, giving the user the illusion of literally drinking fresh fruit juice. The flavour merges well with the intense, potent and couch-locking Indica effect.
Get ready to be knocked down and locked down with this one!
Genetics:
Blueberry x Northern Lights