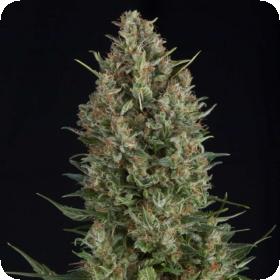 Wembly by Pyramid Seeds was born of Bubble Gum and AK-47, some pretty impressive parents. The result is an Indica dominant strain that produces huge amounts of resin. This strain is even said to be on a par with Northern Lights and Shark.
The plants will not grow massively tall and will grow absolutely gorgeous buds.
They are big and a lovely, pastel green with a smattering of orange hairs and a coating of white crystals. These buds can grow so large that the plants will undoubtedly need some support during the flowering period.
This strain is absolutely delicious in both its scent and flavour and with a highTHC content smokers should beware. This strain has an extremely potent effect that is not for the weak of spirit.
Wembly is feminised meaning that the whole crop will be made up of female plants. These plants will be high quality, uniform and productive.
A lot of growers prefer to use these as they mean that all time, money and effort is spent on the females rather than the pointless male plants.
This strain has a flowering time of 55 - 60 days and should be harvested in September. Its outdoor yield is high and its indoor yield is around 500 - 600 g/m2.