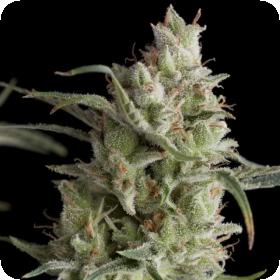 Super OG Kush Feminised Seeds
This super strain from Pyramid Seeds was created with one goal in mind, bring together the two sides of the Kush family. This is exactly what they did by combining Hindu Kush and OG Kush to make Super OG Kush.
This is an Indica dominant strain that flowers quickly and gives some serious yields.
All of the good aspects of Hindu Kush were kept and added to them were the scent, the consistency and the structure of OG Kush. The flavours are a mixture of spice and lemon with delicious notes of Hashish.
The effect is an exciting one and combines physical relaxation with a soaring mental stimulation. This Kush hybrid is not one to be missed and should be immediately picked up by all serious collectors of quality cannabis.
Super OG Kush is feminised so all of the plants in the crop will be female and photoperiod. They will usually be of a higher level of quality and uniformity than regular plants.
These seeds are especially popular amongst growers who find the male plants to be a waste of time, money and effort.
This strain has a flowering time of 55 days and can produce yields of around 500 g/m2.