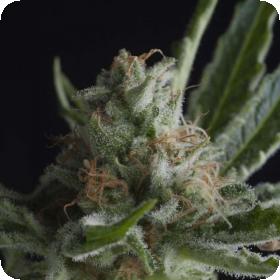 For those who are looking for a nice daytime strain look no further, Shark is that strain. With high THC levels, Shark wont knock users sideways but will instead give a calm, sneaking high which allows for lucidity and comfort. This strain is a combination of Super Skunk and Northern Lights, two extremely popular strains.
It is powerful, tight and versatile whilst producing amazing yields for such a little plant. It is 80% Indica and 20% Sativa and has an exciting flavour and scent profile. This strain is great for anyone who is looking for a painkiller that isn't too psychoactive or for those suffering from stress related issues. Sit back, relax and let Shark work it's magic.
Shark is a feminised strain meaning that it will only grow into female plants. These plants will be extremely uniform and high quality. Using feminised seeds means no male plants, if there is no plan to breed the male plants are not only useless but can be damaging to the females.
This strain can be grown indoors and outdoors, indoors it has a flowering time of 55 days and outdoors it should be harvested in September. It can produce indoor yields of around 500 - 600 g/m2.
Genetics:
Super Skunk x Northern Lights