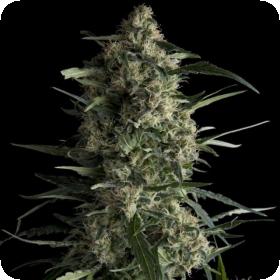 Galaxy by Pyramid Seeds is a hybrid of an Afghani and Northern Lights, some seriously impressive genetics. This plant gives great yields, grows quickly and is extremely Indica dominant.
As a result its already high number of buds are completely drowning in resin. These buds will also usually have a high THC content so expect some seriously spacey highs. Galaxy is a pretty hefty plant and so it may need some support during its flowering period.
Some sort of scaffolding should be put in place in order to support the thick branches or the could be liable to snap. Galaxy is truly out of this world and is likely to impress even the pickiest of cannabis connoisseurs.
Galaxy is a feminised strain which just means that the whole crop will be female. A lot of growers who don't plan on breeding their own crops swear by these seeds. They remove the issue of the male plants which can waste a lot of time, effort and money.
They also tend to be higher quality and more uniform than regular plants.
This strain has a flowering time of 50 - 55 days and should be harvested in September. They give pretty high outdoor yields with an indoor yield of 500 - 600 g/m2.
Genetics:
Afghani x Northern Lights