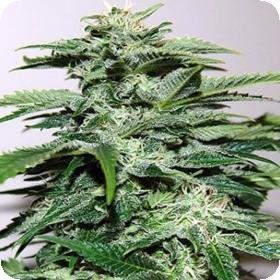 For growers who like a cannabis strain that is easy to grow with a flower time that is short and sweet, KC Brains has produced their own take on an international favourite. Silky-smooth, spicy and peppery on the palate. Northern Light special is a delight for growers and enthusiasts alike.
Many growers report that Northern Light Special is a particularly no-nonsense strain that isn't picky about fertilisers or nutrients and will grow practically anywhere, indoors or outdoors.
The balance of genetics might make one expect to see plants that are more indica in appearance, but most are the exact opposite: tall, branchy, sativa-like plants with long, broad leaves and thick, delicious buds.
The effect of Northern Light Special is said to be very mild and relaxing but it does have elements of both indica and sativa. It leaves the user totally relaxed and loose but at the same time clear-headed and alert.
It's a good all-over-body stone with sativa highlights. It is recommended for those who enjoy the effects of a classic indica but don't like a couch-locking stone.
Indoor growers will appreciate the height of these plants since most won't ever reach more than 4 feet. This makes them ideal for growing in virtually any setup. They even go with the flow with lighting so standard lighting schemes will work just fine.
This is also a great outdoor strain that adapts well to its environment. It resists mould, fungi, and pests well.
It does well in all kinds of climates from very arid to very humid but does not do well when left out in frost so do plan to bring these plant in by late October at the latest. Flower time is about 70 days indoors, slightly more outdoors and yields are said to be average indoors, high outdoors.