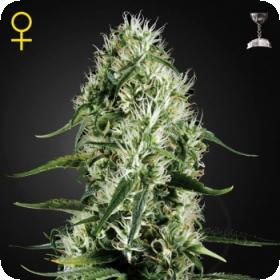 Super Silver Haze Feminised Seeds
Super Silver Haze is a genuine classic cannabis strain with a long history; it won three consecutive HTCC awards in 1997, 1998 and 1999.
It's a combination of Skunk, Northern Lights, and Haze.
In terms of its effect, Super Silver Haze is probably the most indicative of the famous sativa strains.
It's another plant that can get tall and unwieldy if it's allowed to.
In order to prevent this it is recommended that SCRoG or LST be used indoors and that the vegetative period be reduced.
Indoors with a flowering time of 10-11 weeks, a harvest of 800 gr/m2 can be produced.
Outdoors in equatorial, tropical, subtropical and temperate climates, up to 1500 gr/plant can be produced by mid-October in northern latitudes.
The THC production of Super Silver Haze is 19.11 per cent with low CBD and CBN at 0.17 per cent and 0.74 per cent respectively.
It hits fast, strong, and is a very long-lasting high that will eventually lead to an advanced state of relaxation.
Therapeutically, it has been found to be very effective in stimulating appetite and controlling pain.