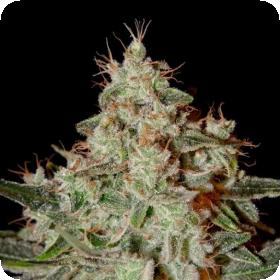 Lemon Skunk Feminised Seeds
Lemon Skunk is a nicely-balanced 60:40 Indica-Sativa hybrid that any lover of Skunk varieties is bound to appreciate. It's not only a delicious, head-filling smoke, it's also ideal for growing anywhere and the smell is more mild than other skunk strains, even pleasant with hints of lemon and citrus. The Skunk smell is still a thing, though, so good air filtration is a must for indoor growers.
Most grow spaces will be suitable for these plants. The tallest ones grow to a medium height and that can be controlled with regular pruning. Doing that also increases the yield and expands the usable portion of the plant. Grow using your favourite method - soil and hydro methods both work just fine.
Outdoor growers should treat these plants like any other Skunk strain. Grow them far away from nosy neighbours and be prepared to bring them in no later than October. Indoor yields reach about 500 g per square metre while outdoor plants can produce as much as 2 kg per plant making Lemon Skunk a great strain for commercial growing.
What makes this strain better is that the plants are very hardy which means that they are also very resistant to common plant diseases and pests. This makes it safe to grow them in areas with routinely high humidity so don't hesitate to have a go at these seeds if you live someplace that is naturally damp or rainy. These girls will do just fine.
As the name suggests, the flavour and aroma are very lemony and zesty, especially after a but of curing. The effect is very complex, starting off psychoactive and uplifting, them topping off
Genetics:
Original Skunk x Pakistani Citral.