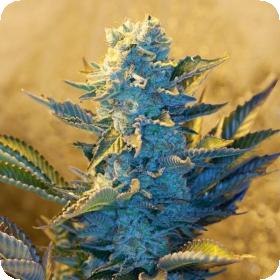 White Widow Feminised Seeds
White Widow is one of the most famous, most legendary strains ever to exist in the cannabis community. It is indica dominant and since it was last released in the 1990s, has been by far one of the most popular strains available. This is a great one for those who are unsure of exactly what sort of strain they fancy, White Widow is always a winner.
It creates dense buds that are just bursting with resin, hence the name White Widow. It smells strongly of flowers and tastes both sweet and sour. It is extremely robust which makes it easier to grow in a variety of places. It also has a powerfully relaxing effect and is often recommended as a pain medication.
This strain can be purchased in the form of feminised seeds. Feminised seeds were designed to make life easier for growers, who have no real use for the males of the crop. As a result, feminised seeds will only grow into female plants. This can save growers a huge amount of time, money and effort that is otherwise wasted on the males.
Feminised seeds also tend to be higher in uniformity and quality than regular seeds. This means that a lot of breeders use them as well. However, breeding with two female plants is quite tricky and should only be attempted by experienced growers.
This strain needs 50 - 65 days to flower and can be grown indoors, outdoors or in a greenhouse.
Remember that the cultivation of cannabis seeds is illegal in some countries, please check the laws of your country before attempting to cultivate cannabis seeds.
Genetics:
White Widow x White Widow