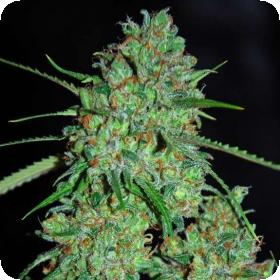 White Critical Feminised Seeds
What do you get when you cross two iconic strains like White Widow and Critical? You get some serious dank bud that has the best of both worlds.
G13 Labs is back with a powerhouse mostly-indica (touted as one of the most potent marijuana strains in the world) that is improved tremendously by the inclusion of Critical Mass genetics.
Needless to say, these plants are powerhouse producers and will keep hobbyist growers' stashes well-stocked for a while. They grow to a medium to tall height and remain relatively compact with short distances between internodes.
They stand up well to both indoor and outdoor growing environments and don't require an excess of special care to thrive.
Indoor growers will find that these seeds respond well to both hydro and soil growing methods and are typically short enough for most hydro methods.
As the plants grow, normal and consistent light cycles will yield favourable results. They appreciate a steady flow of nutrients and reward with a lightning-fast 50-60 day flower period.
Outdoor growers should plan to harvest by early October or before threat of widespread frost. Indoor and outdoor yields are comparable but outdoor plants will yield a bit more given their larger sizes.
First-time and novice growers should pay particular attention to this strain. It has also been described as one of the easiest cannabis varieties in the world to grow.
Yes, White Critical is a very definition of "weed" since that is precisely how it grows. It will impress both the first-timer as well as the seasoned pro. Just sit back, relax and watch the grass grow. It really is that easy.
Don't miss out on the chance to experience Spain's premier indica. G13 Labs is making this incredible world-famous strain available to you at a great price!