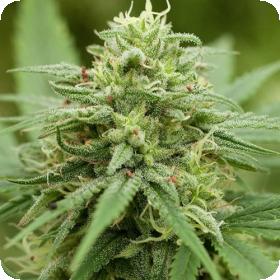 Pineapple Express #2 Feminised Seeds
G13 Labs Seeds' Pineapple Express is excellent, however here we have an enhanced form of this fantastic plant. 
Highly resistant to moisture and ideal for harsh environments. 
The unmistakable feature of Pineapple Express #2 is its rapid flowering stage (45-50 days), which allows it to be grown anywhere and by anyone. 
Its flowers are large, heavy, and resin-coated. 
The maximum height is 2.5m, with a yield of 900-1300g/plant outside and 700g/m2 indoors. 
This Indica-dominant strain tastes like lemon, pine, and spices.
Genetics:
G13 Pineapple Express x Skunk