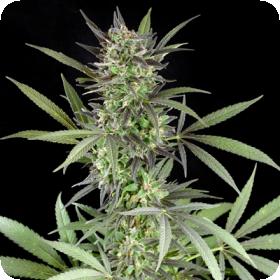 Blue Venom Feminised Seed Seeds
To get this ideal blend of Indica and Sativa, Blueberry and White Widow were the champions used by G13 Labs Seeds. Each of them contributes something unique to Blue Venom, making it such a unique strain. 
The White Widow offers a strong gene that results in compact, resin-covered florets, while the Blueberry contributes its unique forest fruit flavour. 
This easy-to-grow hybrid has good moisture resistance, a quick flowering time (about 55 days), and a long-lasting, powerful but balanced cerebral effect. 
Its enormous, broad blossoms are completely covered with trichomes and yield up to 1,100 grammes per plant. 
Blue Venom can be grown both outdoors and in greenhouses in mild Mediterranean climates.