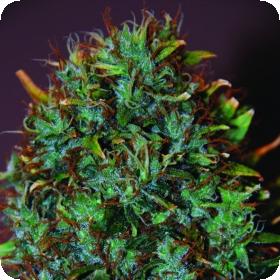 Expert Haze Feminised Seeds
Expert Haze is a sativa dominant that combines a plant from Laos and Super Silver Haze. Despite the exotic genes this strain has a reasonable flowering time and produces impressive yields.
The plants are medium-sized and are well suited for SOG and SCROG set-ups. They will grow a large central cola with lots of small surrounding buds covered in THC resin.
Indoors this strain will produce a yield of around 550 – 650 g/m2 and outdoors roughly 800 – 900 g/plant. The THC level is around 21% and the effect is trippy yet euphoric. The flavour and scent is a mix of perfume and incense with hints of wood and fruit.
This strain is feminised and will only grow into female plants. Feminised strains were specifically designed to make life easier for growers. Most growers have no need for the male plants, who take up half of a regular crop.
They can also harm the females during the flowering process and have to be removed. This is a huge waste of time and money that would be much better spent on the females. Feminised seeds also tend to produce a higher quality of plants than regular seeds.
Some breeders even prefer to use them, despite the difficulty of feminised breeding.
This strain has a flowering time of 65 – 70 days and can be grown indoors, outdoors or in a greenhouse.
Remember that the cultivation of cannabis seeds is illegal in some countries; please check the laws of your country before attempting to cultivate cannabis seeds.