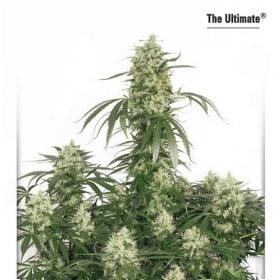 The Ultimate Feminised Seeds
Auto Ultimate is a cross between two amazing strains, The Ultimate and an AutoMazar. This strain is extremely impressive and produces a fantastic yield.
This is definitely one of the best auto-flowering strains by Dutch Passion. Auto Ultimate can pretty much grow in any environment and produces huge, resin coated buds.
The flavour and the effect are exceptional, with the THC level sitting at around 20%.
This strain is both auto-flowering and feminised, making it perfect for growers. Auto-flowering plants will flower at a certain point in their life, rather than as the result of a light cycle.
This will shorten the flowering time of the plant as well as the stature. Despite the small size of the plants they will still produce excellent yields.
Feminised seeds will only grow into female plants, perfect for growers who don't plan on breeding. This can save growers huge amounts of time and money that would otherwise be wasted on male plants.
Feminised seeds also tend to be higher in quality and uniformity than regular seeds.
This strain has a flowering time of 10 weeks and can be grown indoors, outdoors or in a greenhouse.