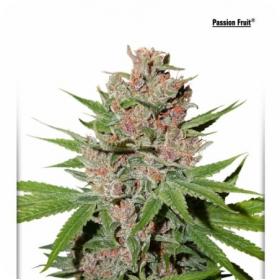 Passion Fruit Feminised Seeds
This strain is definitely one of the sweetest, fruitiest strains on the market. It is a combination of Sweet Pink Grapefruit and Orange Bud, so it's not hard to imagine how delicious it is.
This strain is usually suited to slightly warmer regions when grown outside such as central and Southern Europe. It has an extremely high THC production which usually sits at around 20% with a low CBD level of 0.5%.
This means that this strain has a serious kick to it and, of course, a strong and mouth watering smell and flavour of passion fruit.
Passion fruit is a feminised strain, which means that it will only grow into female plants. Feminised seeds were actually perfected first by Dutch Passion.
They have the benefit of being higher in quality and in uniformity than regular seeds. They are also ideal for growers, who usually have no need for the male plants. These males can also cause issues in the crop and need to be removed.
As a result half of the seeds purchased are wasted, as is a significant amount of time and effort. Breeders also like using feminised seeds, however feminised breeding is extremely difficult.
This strain needs around 8 weeks to grow and will grow well indoors, outdoors or in a greenhouse.
Keep in mind that the cultivation of cannabis is illegal in several countries. Please check the laws of your country before attempting to grow cannabis seeds.