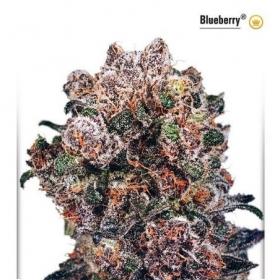 Blueberry Feminised Seeds
The Dutch Passion Blueberry is a true classic with genetics dating back to the 1970s and there are many reasons why this strain has remained a Dutch Passion favourite. Its makeup is 20% Sativa and 80% Indica.
The mother plants are very easy to take cuttings from whilst maintaining its fantastic quality. Possibly not a strain for new breeders to dabble with as it can be quite fussy when it comes to feeding but for those who are a bit of a dab hand, this strain can produce an extremely impressive crop.
This strain, like many of Dutch Passion's others, has been feminised. This simply means that the seeds will grow into primarily female plants weaning out the often unnecessary males.
Many modern growers feel that the males are nothing more than a waste of time, space, and cash as they often have to purchase and grow twice as many seeds as their desired number of females.
For those who do not have a large amount of resources readily available to them this can be a bit of a difficult task to undertake as well as a major setback. Even those who prefer to use males in order to breed their own future crops can find them to be an annoyance.
This is why a technique was developed which allows the females to produce the same pollen; this is not an easy process and should not be taken on by new breeders. However, the subsequent crop will usually be of a higher standard and level of uniformity.
There are no mixed genetics in this strain, just pure Blueberry, it should be grown indoors and will usually grow to an average height. This strain may have been around for a long time but in all those years it has never disappointed.
Please remember that the growing of cannabis plants and the cultivation of seeds is illegal in some countries - please check the laws of your country and don't be growing any plants if it is against your country's laws.