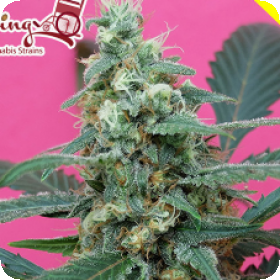 Mong - U - Mental Feminised Seeds
This strain is not just a clever name, but a fantastic strain that is not for lightweights. This strain is an indica/sativa hybrid that came from an experimental crossing of a discontinued Ganj strain from New York.
This plant is most famous for its insane potency. This strain is sativa dominant and has a THC level of 19.5% with a deliciously fruity flavour mixed with a diesel, berries and citrus scent.
This strain may smell sweet and amazing but it will knock more than a few blocks off. This strain hits immediately and it hits hard, couch-lock anyone? This strain is also used medicinally to relieve pain and insomnia.
Mong-U-Mental is a feminised strain and will only grow into female plants. This makes it ideal for growers who don't want to breed their own crops.
These growers have no use for the male plants and have to remove them before they can harm the females. Since about half of a regular crop is male, this can be a huge waste of time, money and energy.
Feminised seeds also tend to be higher in quality and uniformity than regular seeds. Some breeders even prefer to use them, despite the difficulty involved in feminised breeding.
These seeds are also photoperiod and will require a light cycle in order to flower.
This strain has a flowering time of 7 – 9 weeks and can be grown indoors or outdoors.
Genetics:
Delhi Friend x Ganj Of New York