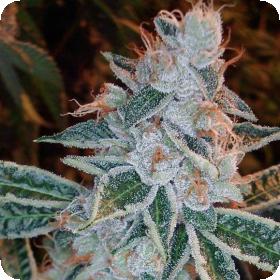 Lemon OG Kush Feminised Seeds
Lemon OG Kush is a well-balanced indica-sativa hybrid developed by one of Amsterdam's leading cannabis breeders: DNA Genetics.
The breeder's commitment to delivering a wide variety of innovative strains is practically unparalleled in the industry and this particular strain is a worthy example of their commitment to excellence.
We think any grower who works with these seeds and anyone who eventually makes use of these incredible plants will agree.
The parent strains for Lemon OG Kush are Lemon Skunk and the OG#18. Both strains stand well on their own but combining their genetics adds an entirely new dimension to the experience.
The Lemon Skunk side provides a distinct aroma and a pungent shot of sharp citrus while the OG side amplifies the effects as well as the overall aroma and flavour profile of the strain.
Both parents are balanced indica-sativa hybrids which makes them particularly suited for pairing in this way.
Lemon OG Kush has also been heralded by medical cannabis users as a strain that is particularly effective in the treatment of various ailments from migraines to nausea to anxiety and depression.
Different users find different uses for it and it is also a potent but not at all couch-locking social strain for those who simply enjoy the recreational benefits of cannabis.
That said, there is enough indica influence here to make the effect very soothing and calming. Most users recommend this strain as a means of winding down after a long day.
Don't expect bursts of energy or overt inspiration, just an even, mellow full-body high that also fills the head quite nicely.
These plants thrive in both indoor and outdoor growing environments and can be cultivated using a variety of methods. Flower time is between 8 and 9 weeks indoors. Harvest for outdoor plants can commence on or near 1st October in the Northern Hemisphere.