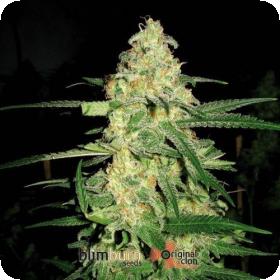 Original Clon Feminised Seeds
The Original Clon/Clone Feminised Seeds are a cross-breed of an Afghan strain and a Skunk strain, this has given it a relatively fast flowering time and a fruity aroma that is very appealing.
So appealing in fact that it won the Highlife 2004 cup in both the General and Bio categories. It looks very Sativa with its long, thin leaves, however its fast developing buds are a distinctly Indica trait. It is in fact of the Indica variety.
This strain has only recently been brought out in a feminised seed.
Blimburn is a brand from Spain who have always been passionate about supplying new and unique strains for their customers and here they certainly have not failed.
Feminised seeds have become very popular over the last several years since they completely eliminate the chance of growing male plants.
Regular seeds grow a roughly 50/50 split of male and female seeds which means spending twice the amount on the same number of female seeds, with feminised seeds it is certain that most of the money spent will not be wasted as almost all of the seeds will produce female plants.
This varies from brand to brand; some can boast a 100% pure female yield whereas with some others there is a slight chance of a few hermaphrodite plants popping up.
Female seeds have many advantages over the regular seeds. For starters they have a higher level of potency and uniformity which means a higher level of continued quality within a crop.
They can also, with the right type of climate related stress, produce a few male flowers. Producing these means producing male pollen and so they can fertilise themselves and create a seed harvest.
This strain can grow to a height of 2-3m with an indoor yield of 450/500 g/plant. They can be grown indoors, outdoor, or in a greenhouse without experiencing any negative effects. They have a flowering time of 8 weeks and they should be ready for harvest in mid-September.
Please remember that the growing of cannabis plants and the cultivation of seeds is illegal in some countries - please check the laws of your country and don't be growing any plants if it is against your country's laws