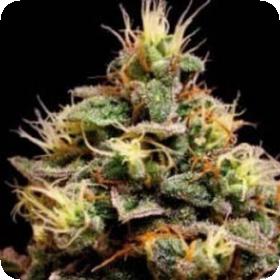 The Blimburn Kabrales Feminised Seed is an inbred Cheese strain. It produces a resilient, strong, and durable plant which can grow indoors or outdoors whilst still producing the same impressive yield.
It is resistant to climate types that would usually negatively affect a plant such as cold or damp weather. It is named after a famous Spanish brand of Cheese and has an extremely strong smell which is usually associated with the Cheese strain. These seeds are feminised.
This simply means that they only produce female plants. These were specially engineered a good while ago so that those who did not need them did not have to deal with male plants.
Male plants can be of very little use and just serve as a means of wasting time, space, and money. Feminised seeds are now widely seen as a wise investment as they save time in the long run whilst producing a far more efficient crop with a higher yield.
They also have a reputation for providing a high level of continued and uniform quality whilst also being generally more potent than regular seeds.
For those who prefer to harvest their own seeds they are still extremely useful. If correctly persuaded, essentially stressed out by a quick climate change, they can produce some male pollen.
This pollen can then be used to fertilise the females in order to produce a harvest of seeds. This can be a little more difficult than just using a male and a female plant but many would say that the extra effort is certainly worth the results.
This plant has a medium/high level of THC, it is of the Indica variety, their indoor yield is 350-400g/plant, they grow to a height of 2-3m, they have a flowering time of 9 weeks, and the harvest month is mid October.
Please remember that the growing of cannabis plants and the cultivation of seeds is illegal in some countries - please check the laws of your country and don't be growing any plants if it is against your country's laws.