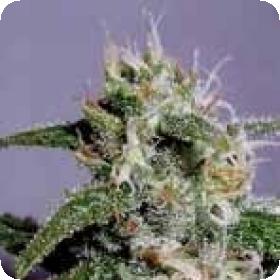 Cinderella 99 is one of the most popular strains out there, fast growing, sweet, and potent it is very highly regarded on the current market. One of the most amazing things about this strain is that the Sativa behaves like an Indica.
It has also been said to resemble the Sweet Lanrdace Sativa very closely, a strain that normally takes half a year to reach maturity whereas the C99 takes only 7-8 weeks. Phenomenally fast for essentially the same effect.
These seeds are feminised which means they produce only female plants. Female plants are really the useful ones; the males are only useful to those who wish to cultivate their own seeds for future crops.
Feminised seeds have a higher level of potency and uniformity than most regular seeds which is often seen as a very desirable trait, along with the fact that they save a lot of time weeding out the males and money considering that with regular seeds twice the number of seeds must be purchased for the same number of pure females.
The new batch of the C99 is based on two of the more popular basic pheno types, the Grapefruit and the Pineapple, which were both gained from the original Brothers Grimm C99.
This gives the strain a really fantastic flavour that cannot be found with many other strains. It has a very high THC content, an indoor yield of 550g per plant, a very high yield for a strain of this type, and can be grown indoors or outdoors. Really a strain to watch out for.
Please remember that the growing of cannabis plants and the cultivation of seeds is illegal in some countries - please check the laws of your country and don't be growing any plants if it is against your country's laws.