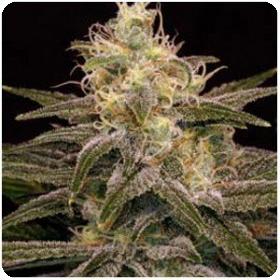 Chocolopez Feminised Seeds
The original Chocolopez seed is a hybrid which came from the already popular OG Chocolate Thai and Cannalope Haze strains. This already excellent seed, which received the best traits of each parent, is now available in a feminised form.
Feminising a seed simply means that there is no chance that it will produce a male plant. This became very popular very quickly as many people have no use for the males and so they simply take up space in a crop and waste valuable time and energy.
They also waste money as many people would have to buy twice the number of seeds for the same yield of females. Feminised seeds have a much higher level of potency and consistent quality than most regular types of seeds.
This strain is very high in THC and usually grows up to 2-3 meters in height. To reach its full potential it does need a fair amount of growing room, both inside and outside, but it is certainly worth it in the end.
The plant produces large orange fuzz covered green buds which have been likened to the hash of the 1980s. A classic style I think everyone agrees.
This seed will grow both indoors and outdoors, its indoor growth time being roughly 65 days and its outdoor harvesting time is mid-October. Its indoor yield is 450g per plant which is not to be sniffed at.
A potent and uniquely flavoured plant that has been carefully bred and tested from its already excellent parent plants.
Even though they take a little extra work their quality is certainly worth the trouble and, as I mentioned, the maturity time is very short making them extremely time efficient and not too susceptible to slight climate change.
Please remember that the growing of cannabis plants and the cultivation of seeds is illegal in some countries - please check the laws of your country and don't be growing any plants if it is against your country's laws.