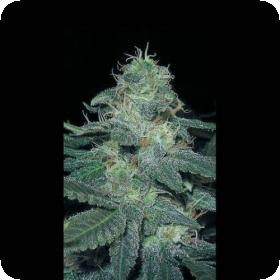 BC Diesel Feminised Seeds
The Blimburn BC Diesel Feminised Seed is a rather special cross breed. It comes from the already rather well known Jack Herer and NY Diesel strains and this strain has well and truly inherited its parents' best qualities.
If the NY Diesel wasn't already excellent enough, the potency and flavour of the Jack Herer strain really brings a whole new game to the table.
The seeds are feminised which means that they do not produce male plants. To many the male plant is nothing more than a nuisance and completely unnecessary.
Feminised seeds are becoming increasingly popular worldwide, not just for the lack of male plants, but also for their higher recorded levels of potency and uniformity.
Since the further research into the feminised seed the percentage of pure females grown is much higher than it used to be and people rarely have to worry about the appearance of hermaphrodite plants.
These seeds have a maturity time of just 9 weeks; a very fast growing plant with a short life cycle is preferable to most as they are a lot less picky about where they grow.
These seeds can grow indoors, outdoors, or even in a greenhouse making them far more versatile than a lot of strains.
They grow to roughly 2-3 meters tall and have an indoor yield of around 500g per plant when grown indoors.
The flavour, potency, and general experience of this seed is rather unique as it comes from such excellent stock.
The cross breeding of two high quality strains is always a wonderful idea, as long as they complement each other, since seeds will almost always receive the best genetic material from each parent. I think with the BC Diesel Feminised Seeds, this is certainly the case.
Please remember that the growing of cannabis plants and the cultivation of seeds is illegal in some countries - please check the laws of your country and don't be growing any plants if it is against your country's laws.