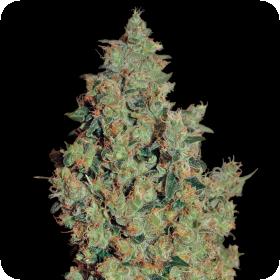 Tangerine Dream Feminised Seeds
Barney's Farm Tangerine Dream is an impressive cross of G3 and Neville's A5 Haze that Barney's then crossed AGAIN with G13. It is a sativa-dominant hybrid that has a tangy citrus bouquet that is very intense. The effects fill the head and are very relaxing.
Tangerine Dream offers the best possible experience for smokers as well as growers. It has a brief 60-65 day flowering cycle, grows to about only about 1 metre with hardy and abundant side branches.
The average plant yields a minimum of 600 g per square metre and presents colas that grow large and very tight, particularly for a strain that is mostly indica. The colas have flecks of red and orange hairs that are finely frosted with sparkling THC crystals.
The flavour of Tangerine Dream is what one would imagine: sweet and fruity citrus and the effect is long-lasting and very clean.
The contrasting attributes of this unique strain testify to Barney's Farm's commitment to innovative hybridization techniques and offer the user an end product that is extremely unique and very satisfying.
The strong and inviting flavour of the G13 mingled with the elegant and refined qualities of the Neville's A-5 Haze simply works. It works so well, in fact, that its complexity of flavours, colours, aromas and overall aesthetic qualities are virtually unmatched.
The experience of Tangerine dream evokes images of tearing into a ripe, fragrant orange that is bursting with sugary sweet juice and that image is only heightened by its taste.
The pungent citrus aroma is amplified when lit and mingles with a subtle, earthy quality that provides a real Yin-Yang balance to its more wild and exotic side.
Plants of this strain provide a very high THC content and an equally high 1.8% CBD content, average and its aroma and effect really linger.
Please remember that the growing of cannabis plants and the cultivation of seeds is illegal in some countries - please check the laws of your country and don't be growing any plants if it is against your country's laws.
Genetics:
G13 x Afghan x Neville's A5 Haze