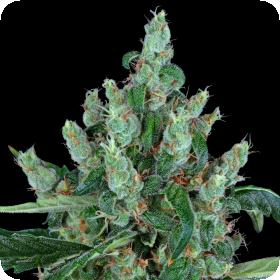 Laughing Buddha Feminised Seeds
Barney's Farm Laughing Buddha took the cannabis growing world by storm in 2003 when it took the Cannabis High Cup award - a prestigious honour.
The strain is very stable and the seeds are good for at least 80% germination with consistent growing results. Laughing Buddha is a hybrid cross of unspecified Jamaican and Thai genotypes.
It is a dominant sativa strain with a look that is very pleasing to the eye. Its flavour is very fruity and each draw whispers of its exotic parentage.
Laughing Buddha seeds are suitable for growing indoors and outdoors. The plants grow like a typical sativa: tall and straight with a hardy branching system that produces an abundance of buds with plenty of resin.
The plants grow very quickly and easily - especially from these feminised seeds - and do a good bit of stretching during their flowering cycle. They do require a little bit of pruning and care, but they are hardly labour-intensive.
Still, its somewhat wild nature speaks well to the pleasures it provides when fully mature.
Laughing Buddha can reach heights of 6-7 feet outdoors. Indoors, the plants only grow to about 4-4.5 feet, making them a great choice for indoor growers with limited space. Harvesting in the Northern Hemisphere is mid October.
The plants produce a generous yield: nearly 600 g per plant, average. The flowering period is a bit longer than average, just like any sativa, but it is definitely average for a dominant sativa hybrid: about 11 weeks.
Also like with other sativa strains, Laughing Buddha rewards patience. Letting it grow another week or longer increases its effects drastically.
Laughing Buddha is a powerful strain that is distinct in its aroma, appearance and taste. The buds have very high THC concentration or better and about 1.6% CBD.
Please remember that the growing of cannabis plants and the cultivation of seeds is illegal in some countries - please check the laws of your country and don't be growing any plants if it is against your country's laws.