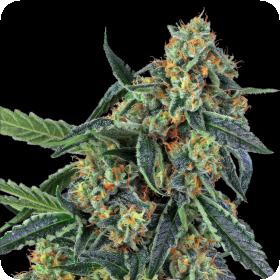 Cookies Kush Feminised Seeds
Cookies Kush is another wonderful strain from the breeders at Barney's Farm. The strain won the Cannabis Cup in 2014 and is a combination of GSC and OG Kush, two already popular strains.
It is the most exciting new strain currently on the market and has become an instant hit with the cannabis community. The Girl Scout Cookie strain was specially selected and crossed with a powerful and impressive form of OG Kush.
The breeders then went even deeper, backcrossing the strain until they found exactly the right balance. Cookies Kush has the smell and sent of fresh cinnamon accompanied by a delightfully earthy and nutty after taste. This is certainly a not to be missed strain from the ever impressive Barney's Farm seed company.
Feminised seeds are often used by growers who have no plans to breed their own crops. For these growers the male plants can not only be a hindrance but can actually cause major problems in their crops. They can damage the valuable female plants during the flowering period. Feminised seeds were created so that growers would not have to waste money on a half male and half female crop as the males would simply be wasted. Now a grower can spend the same amount of money on twice the number of female plants. Feminised seeds are often of a higher quality than regular seeds and they have a greater ratio of uniformity. Over 80% of plants which have been feminised have shown improvement in both areas. They can also be bred to create more feminised seeds. Feminised seeds are created by breeding two female plants together. Female plants are capable of replicating the pollen produced by the males and this pollen is used to fertilise another female creating feminised seeds.
Cookies Kush should be grown in a temperate to hot climate. It will grow to a height of around 50 - 100 cm and gives a yield of over 600 g/m2. It grows in just 50 - 60 days and is said by Barney's Farm to have medicinal grade levels of THC and CBD. The strain can be grown indoors or in a greenhouse making it ideal for those who are not lucky enough to live in hotter climates.
Genetics:
Girl Scout Cookies X Rolex OG Kush